Model 980 Small Animal Spinal Unit
Model 980 Small Animal Spinal Unit is ideal for a variety of spinal procedures. A variety of spinal accessories have been included, making this unit extremely versatile for research with various small animals. It is easily the most flexible spinal unit available to researchers today.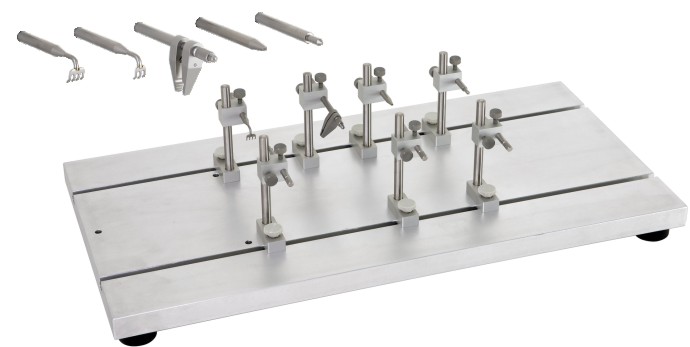 The base of the unit is Model 912 Spinal Base Plate which is precision machined and has two full length tee slots for rapid mounting and removal of components. The plate is 24″ L x 12″ W x 1″ H
and weighs 27 pounds.
Attached to the plate by way of tee slots are seven base mounts with vertical posts and clamps. The mounts are secured to the base plate by thumb screws and tee nuts for fast, rigid clamping. No wrenches are needed.
The posts have 3/8″ shaft and have 4.5″ of vertical adjustment. The upright assembly clamps have been designed with thumb screws for fast and easy height adjustment. The design of the Model 980 assures ample lateral, A/P and vertical travel of all components.
Model 980 Standard Accessories
(supplied with Model 980)
Model 912 Spinal Base Plate
Model 981B Retractor, Rat (pair)
Model 982 Adjustable Base Mounts with Post and Clamp (Qty. 7)
Model 985 Hip Spikes (pair)
Model 986C Vertebrae Clamp
Model 987 "V" Notch Spikes (pair)
Special Request
Model 981C Mouse Retractor can be substituted in place of 981B or ordered in addition.
Features
Combines optimum rigidity with maximum flexibility for accurate and reliable placement.
Modularity allows the use of a wide range of components and accessories.
Simple, fast and positive clamping and locking.
Model 900 series Small Animal Stereotaxic Instruments can mount onto the Model 912 Spinal Base Plate.