Capture every movement of your subject using Place Preference-The only system that allows you to capture x,y positioning of the animal.
SDI's Place Preference System is the most powerful, flexible and easy to use sytem for measuring the motivational effects of an object or stimuli. SDI's Place Preferece System employs a 4×16 photobeam array to precisely record entries into chamber and time in chamber. In addition, the system accurately records and reposrts standard activity data such as ambulation movements, fine movements and time stamped (x,y) postions.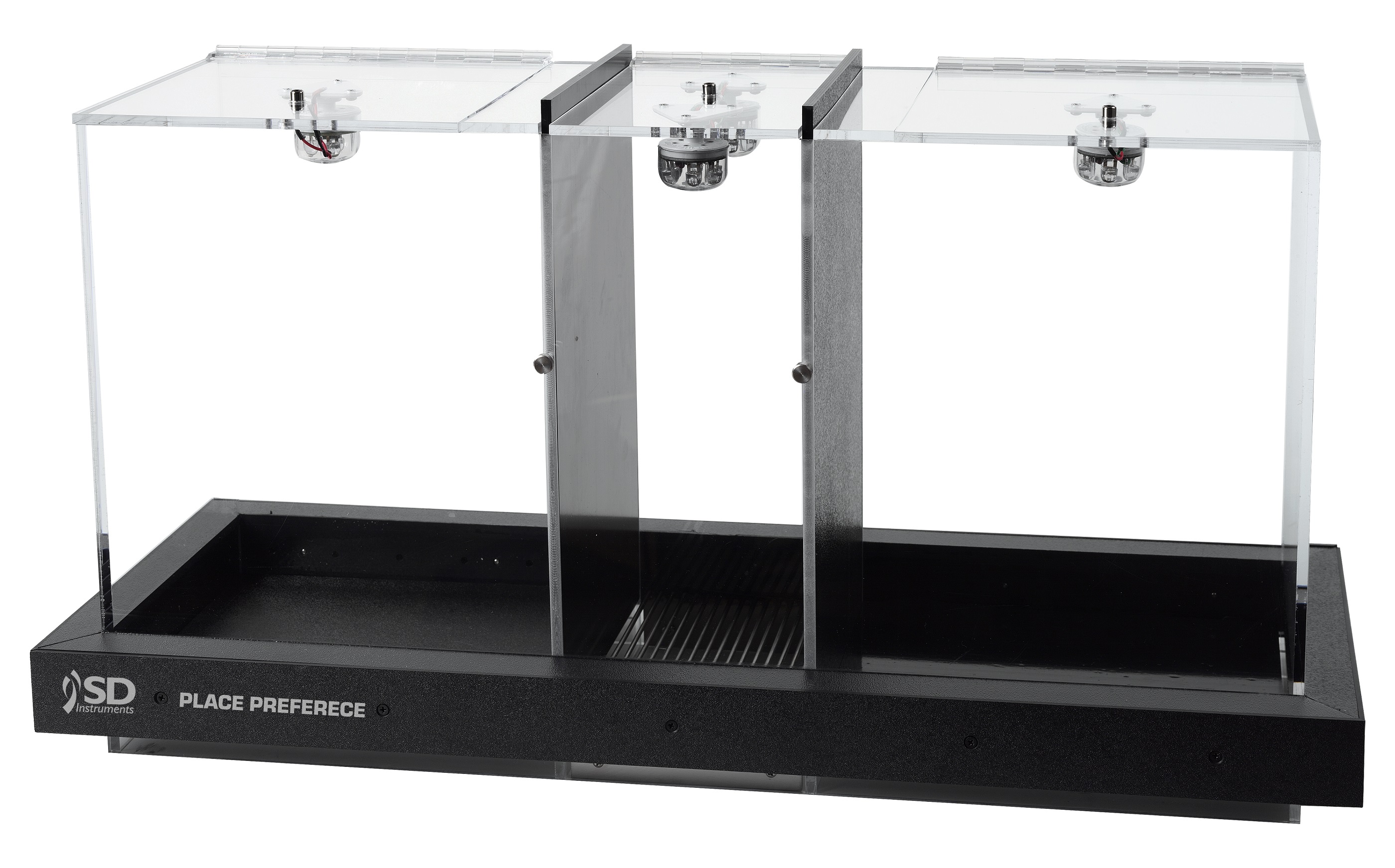 The Place Preference Control Unit connects to the computer via USB making laptops available to run the system. The system utilizes a database tos tore all study results in a single file (table) format ready for export. This eliminates the need to cut and paste multiple files together in order to export study results to statistical packages.
The test enclsoure is designed with clear acrylic walls providing the ability to attach any type of cue. Removable floors allow the user to create custom floors from virtually any material to meet specific study requirements. High intensity LED celing lights are long lasting and emit no heat. Manually operated doors rise fully, providing an unobstructed pathway for the subject to cross between chambers.
Features
Record full activity data including x,y positioning at all times
Choose your own cues and change flooring for maximum flexibility in testing
Capture all movements with the 4×16 photobeam array
Setup, record, and export all data with point-and-click ease
Description
Report an animal's preference for, and activity inside, a particular chamber with SDI's Place Preference system. Offering the ability to capture full movement data from exploration, entrance, time-in-chamber, fine movement and ambulation, Place Preference is the preeminent choice for Conditioned Place Preference (CPP) studies.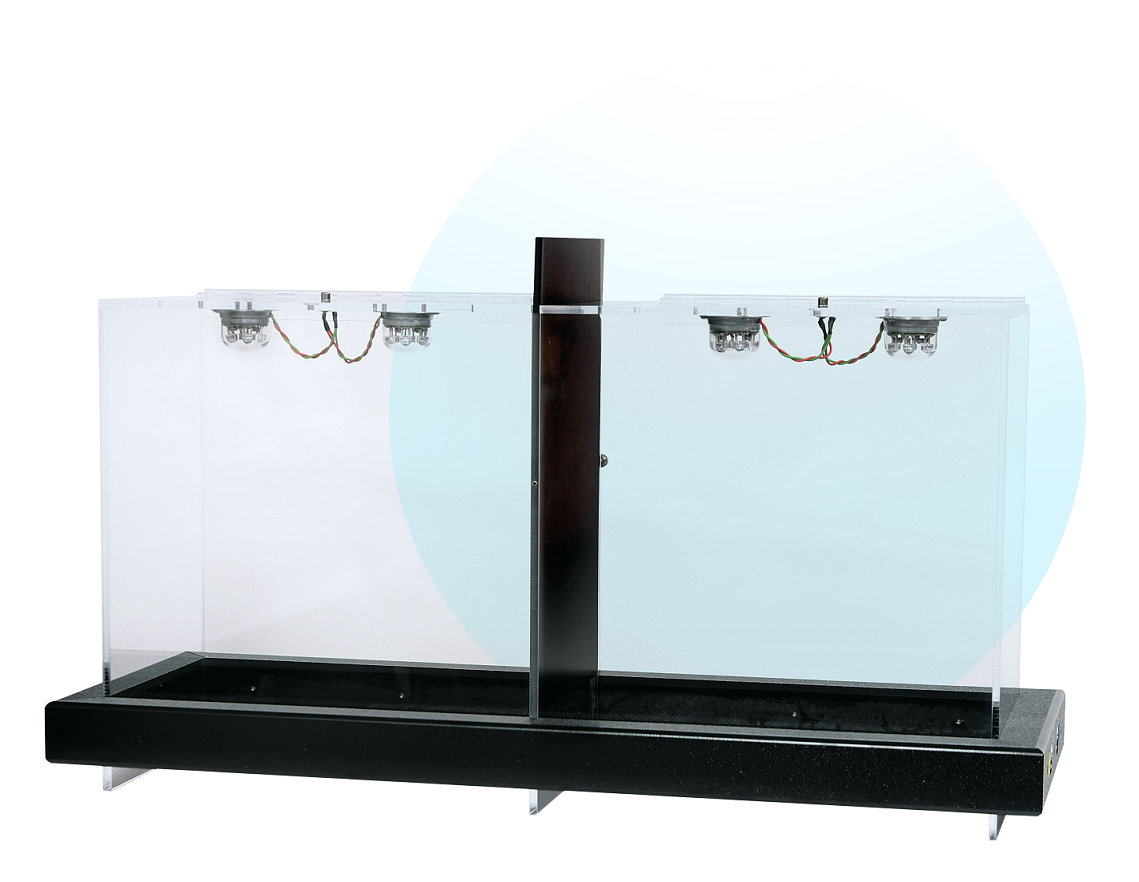 Designed for flexibility, you can purchase either a three-compartment or two-compartment enclosure with clear walls, removable floors, and no heat LED lights. Ensure thorough data capture by recording movement with a 4 x16 photobeam array, and speed up your testing capabilities by running up to 16 test stations from a single computer.
The Place Preference software allows you to pre-define your study to eliminate run-time errors and to save time by running automatically. It will also save your raw data to allow any analysis necessary, and make it available for export to Microsoft® Excel (or other delimited file type). When viewing your data, you will easily see when animals entered chambers and the length of time spent there, using the Place Preference Reporter.
Highlights of the Place Preference system include:
Maximum Flexibility with Cue Set Up Place Preference system overcomes the limitations of other systems that only offer fixed floors and black/white walled compartments. With SDI's Place Preference, you may attach your own cues for each compartment separately and change them as needed due to its clear walls and option for either two or three compartment enclosures. Additionally, removable flooring makes it easy to design any flooring needed, and no-heat LED lights make for either a light or dark environment without worrying about heat affecting the animals.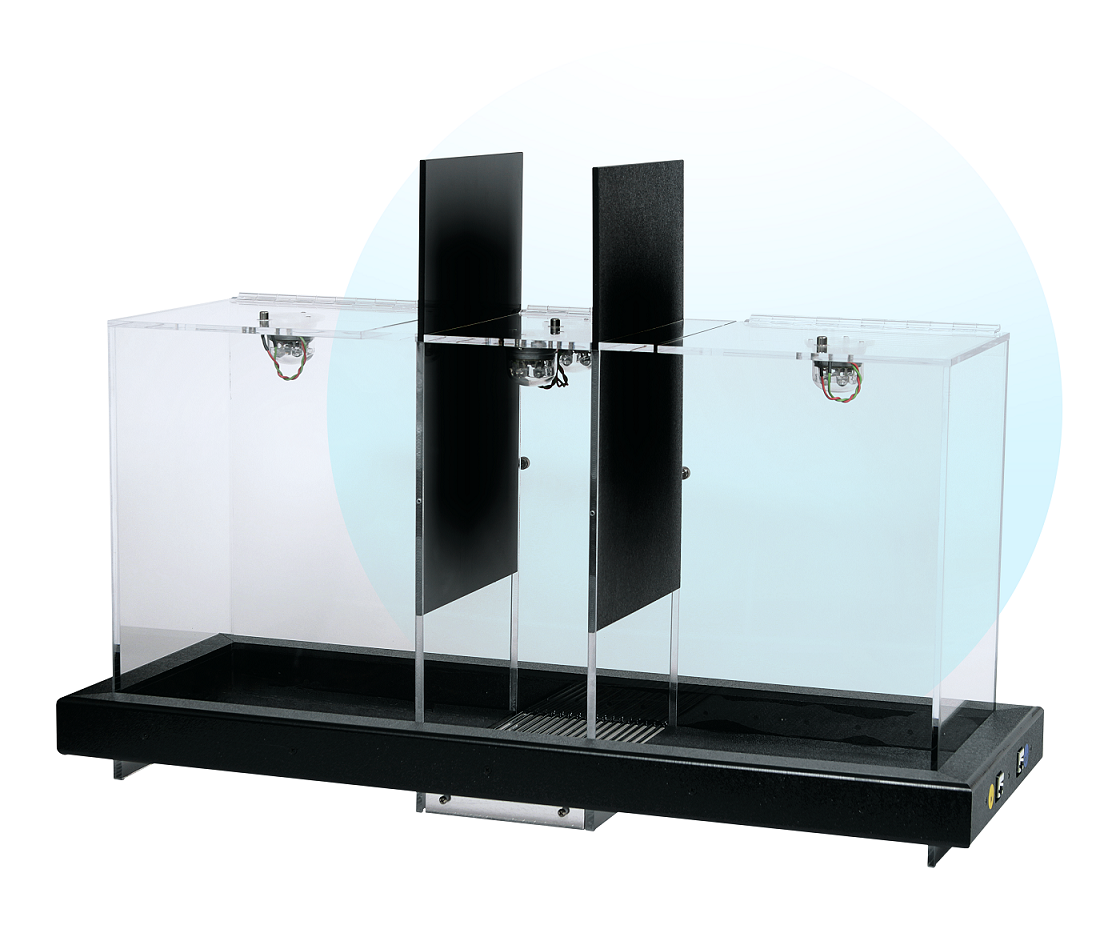 Since animals can see into other compartments, you also will not need to worry about missing the door, as can happen with other systems.
Obtain x,y Positioning of the Animal
The only system on the market that can provide you with x, y positioning of the animal—Place Preference gives you information on the entries into chambers and time in chambers, as well as the level of activity while an animal is in a chamber.
The system is able to determine whether a beam broken in a chamber is an exploratory movement versus actual entry, eliminating faulty responses.
Software that Works With You
The Place Preference Software is a combination of the PAS Software and the Place Preference Reporter. This software allows you to define your complete study in advance by pre-assigning specific animals to specific test stations for each test session and setting up test session parameters as to test length and intervals. The software will automatically record your session data and keep it all together in the study's single file. When you are ready, display your data right on your computer monitor or export it with one click to Microsoft® Excel or to a delimited file type(TAB, CSV, etc.). Other software features include:
Define Your Study in Advance
Make sure you collect the most accurate data possible by defining each of your planned test sessions. You will be able to plan session parameters, set subject identifiers, assign subjects to specific test stations, and specify subject parameters such as dose level. To keep from losing any critical data, it will all be stored in a single file format.
Automatically Run Sessions
Defining your study in advance not only saves you time by automating sessions, but eliminates run time decisions and data entry that can cause mistakes. You'll also ensure your results are tightly coupled to your predefined subject identifiers. Simply follow the Place Preference software instructions to execute the test session.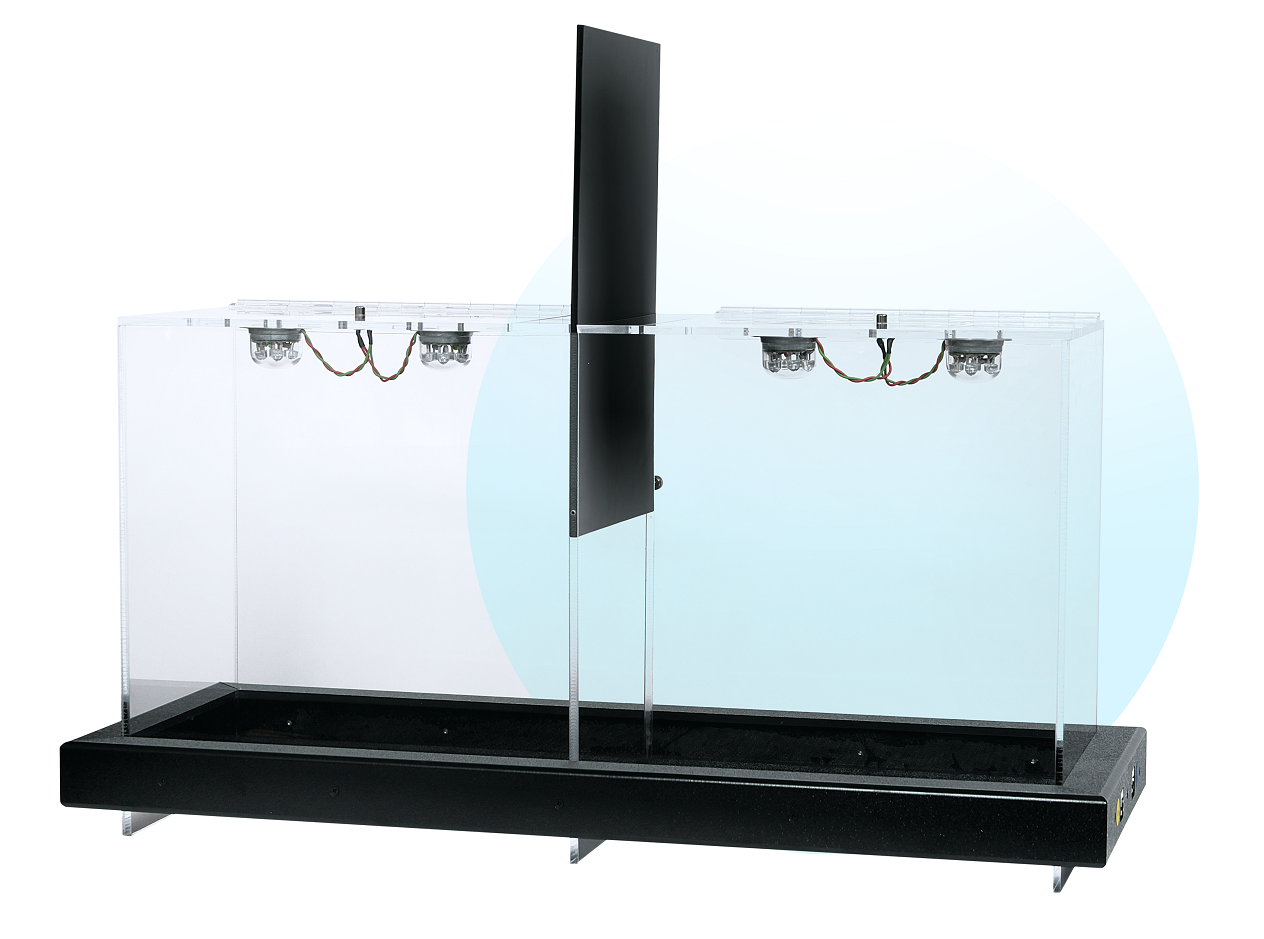 Export Directly to Microsoft® Excel (or any delimited file type)
The Place Preference software makes table formatted results available for direct export to Microsoft® Excel or to a delimited file type(TAB, CSV, etc.) and automatically identifies data by column headers. Since the data is exported from a single file, you won't lose critical information and you'll save time by removing the need to aggregate multiple single files and possibly reformat them again.
In addition, the Place Preference Reporter generates a report in Microsoft® Excel that shows the entry into each chamber, the time spent for each entryas well as the number of Ambulation and Fine Beam breaks while in a chamber.
High Volume Capability
Process a large number of animals quickly with the ability to connect up to 16 test stations to a single computer and run 16 animals simultaneously.
System Components Include:
Plexiglas, three-compartment station with 4 x 16 photobeam array, manual doors and LED lights
Removable, two-sided floors (rough and smooth texture)
Software
Control Box
User Manual
All cables and connectors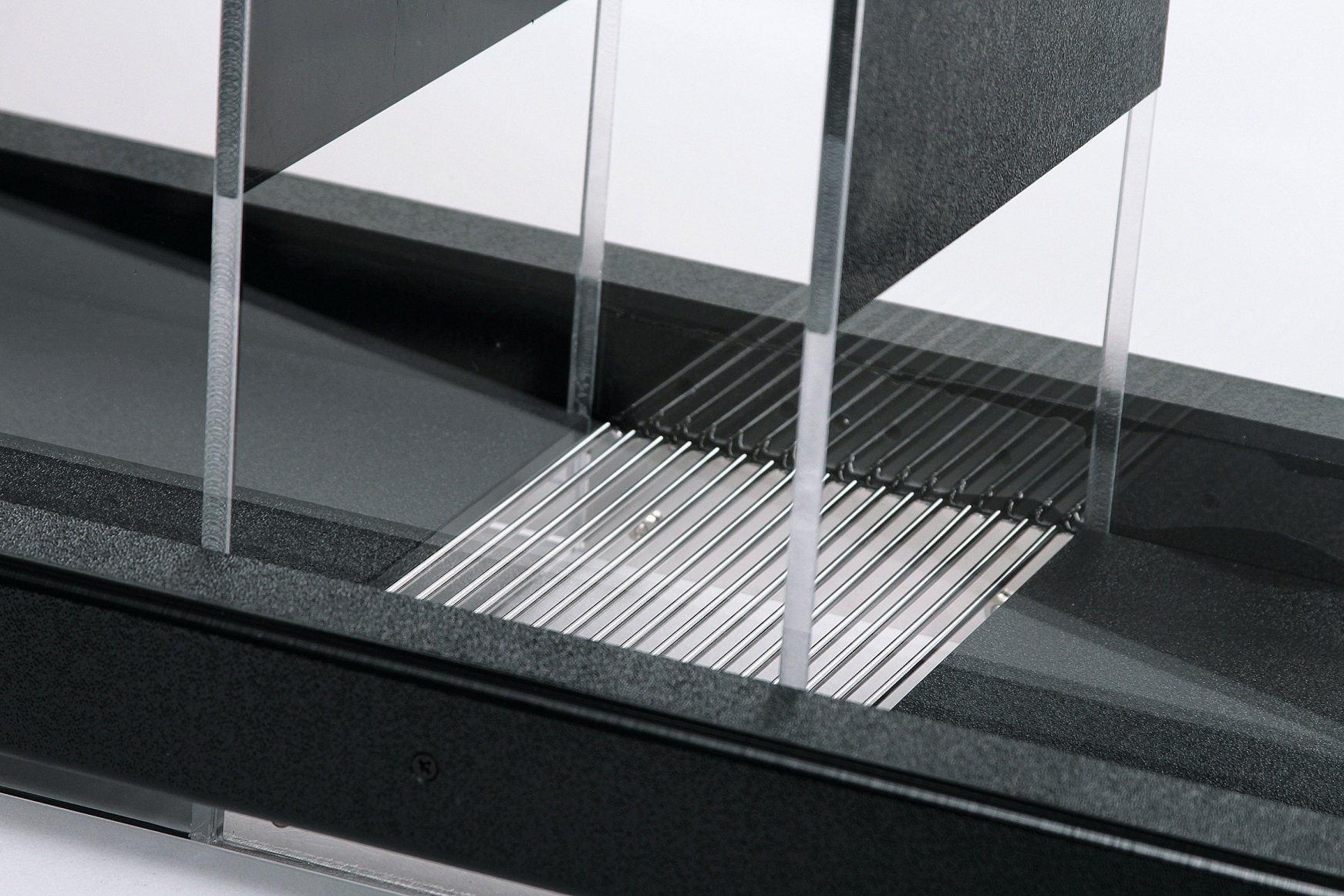 Specifications
Dimensions 27.5" W X 8.75" D X 16" H End Chamber (ID): 10.375" W X 8.125" D X 13.125" H Center Chamber (ID): 6.25" W x 8.125" D x 13.125" H
Weight 9 pounds
Material Composition Acrylic
Maximum # Stations 16 per computer
Standard Cable Length 4Ft. Data Cable, 4Ft. Light Cable
Color Clear
Accessories
...