Model 940 Small Animal Stereotaxic Instrument with Digital Display Console
Model 940 Small Animal Stereotaxic Instrument with Digital Display Console combines the quality and accuracy incorporated in all Kopf stereotaxic instruments with state-of-the-art digital linear positioning scales for ease in operation.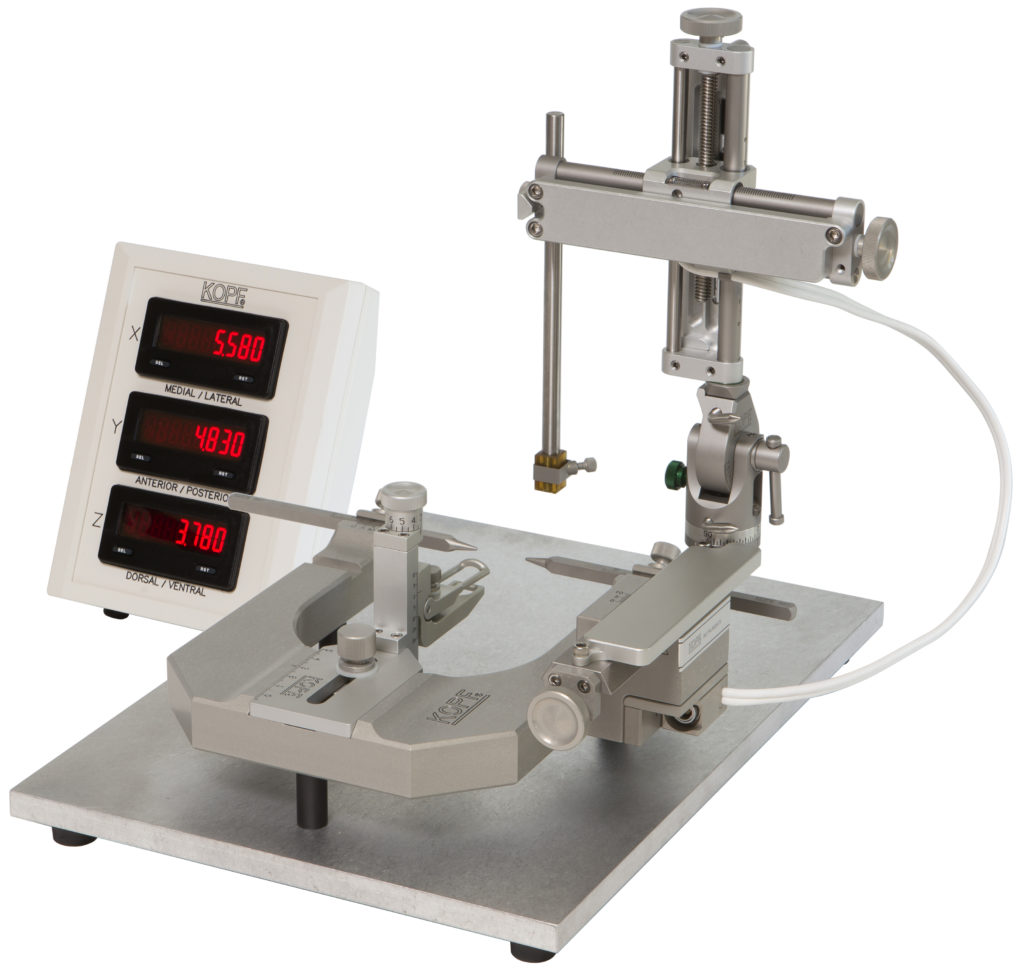 Model 940 Linear Scale Assembly with Digital Display Console design ensures full range of motion, angulation and rotation of the stereotaxic manipulator. Linear scales have 10 micron resolution for all axes and include an easy to read compact digital display console. The control feature allows "zero" reset at any position along the 80 mm travel distance. Our display includes slide switches that allow the end user to determine positive or negative number readings. In addition, the traditional vernier scales are visible and can be utilized for gross movement. New design features include detachable manipulator top assembly. Our previous design for the digital manipulator had connecting cables that were hardwired to the stereotaxic frame. With our new design you can easily disconnect the manipulator top for ease in storing, cleaning and/or for returning to factory for service, if needed. All linear encoders are designed and built by David Kopf Instruments giving us overall control of product quality. Most competitors use magnetic scales/encoders which are less accurate and are subject to outside elements (dirt, chemicals). Our encoders/linear scales are fully protected. Digital Display Console provides easy to read (XYZ) readout on one compact display design.
Manipulator X,Y, Z adjustment – Linear scales have 10 micron resolution and include an easy-to-read compact digital display console. The digital display control features allow "zero" reset at any position. Metric scale 80 mm calibrated 0.1 mm vernier scale.
Angle adjustment – Fully universal joint calibrated on two planes for access from any angle. Vertical alignment pin can be removed for angled settings from 0° – 90° either side of vertical, 2° increments. Manipulator swivel design has been improved with a locking mechanism for off-plane presentations. A precision t-bolt locking mechanism will insure that manipulator angle is held firmly in place to provide positive angle presentations.
Rotation adjustment – Manipulator swivel base can be rotated up to 360°. Manipulator X/Z axis can be repositioned at 90° increments
The stereotaxic frame is mounted to a 13.9″L x 10″W base plate and is elevated to bring ear bar height to 53 mm. Ear bar slots on the "U" frame have 0.1 mm verniers for ease in centering the animal. Ear bar zero to posterior end of base plate is 8.763″.
Model 920 Rat Adaptor includes a nose and tooth bar assembly offering various stereotaxic adjustments.
Dorsal/Ventral adjustment dial – Calibrated in 100 micron increments, 1 mm per revolution.
Dorsal/Ventral adjustment – 30 mm
Dorsal – 10 mm above ear bar zero
Ventral – 20 mm below ear bar zero
Adaptor Plate A/P adjustment – 44 mm
Ear Bars – Model 957 18° Tip Rat Ear Bars
(6.3 mm square with 35 mm of calibration).
Model 940 Standard Accessories
(supplied with Model 940)
Model 900 Stereotaxic "U" Frame Assembly
Model 900-C Base Plate
Model 920 Rat Adaptor including one set of
Model 957 18° Tip Rat Ear Bars
Model 960 Electrode Manipulator (0.1 mm res.) including
Model 1770 Electrode Holder with corner clamp
Model 940-B Linear Scale Assembly with 940-C Digital Display Readout Console (10 micron resolution)
Our instruments were designed for versatility. Any standard accessory that is not required can be omitted and the appropriate accessories can be added for your specific research.
Features
Quality, versatility and ability to perform are guaranteed by David Kopf Instruments.
Combines student level operating simplicity with research quality and accuracy. Permits accurate and reliable stereotaxic placement in digital format.
Modular accessories allow for expansion of instrument capabilities.
Adaptable for use with a wide variety of small animals.