Model 1900 Stereotaxic Alignment Instrument
Patented Model 1900 Stereotaxic Alignment System provides the ability to manipulate and refine the position of the head in three dimensional space, independent of the clamping features of the head holding device, prior to exploring inside the head and brain.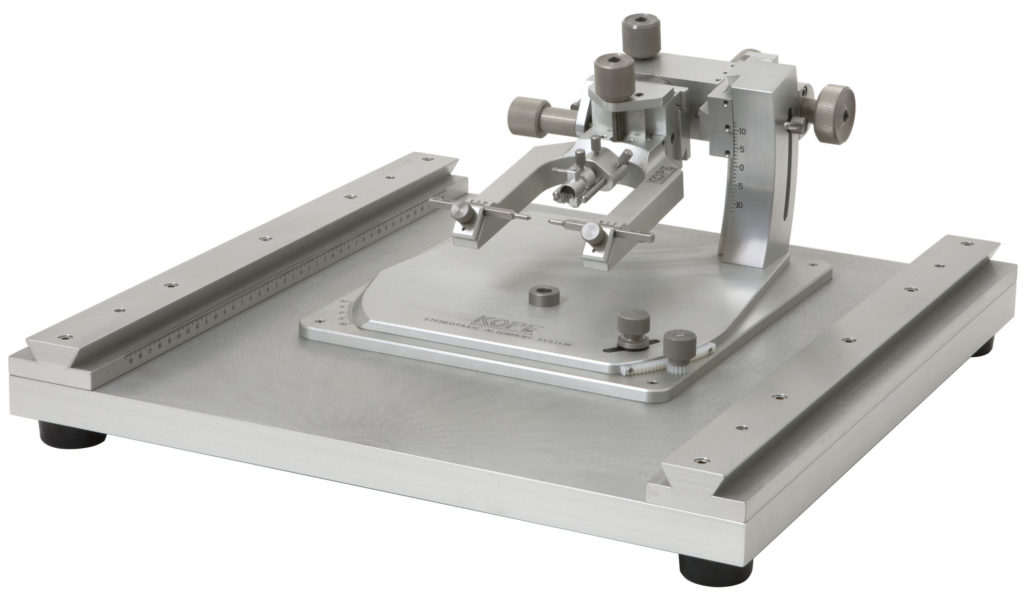 The instrument is fitted with two large dovetail rails for mounting electrode manipulators and additional accessories. The sagittal alignment plate is designed for use with and includes a centering height gage. This gage represents the position of the bregma landmark on the top of the skull of the research subject when mounted to the sagittal alignment plate. Our design offers the maximum stereotaxic adjustment available for positioning the animal's head; dorsal/ventral, dorsal tilt, coronal tilt, anterior/posterior and midline alignment (nose left/nose right). This complete unit is mounted to 18″ x 18″ x 1″ precision ground aluminum base plate. The overall mass and rigidity of this instrument provides ultimate stability.
Model 1923-B Mouse Gas Anesthesia Head Holder is included with this instrument. We have incorporated a custom nose clamping device that can be utilized for delivering gas anesthesia via connection to the inlet/outlet ports located on the anesthesia mask. Model 1922 Non-Rupture 60° Tip Mouse Ear Bars along with the palate bar design will insure absolute stability of the head.
Model 1900 Stereotaxic Alignment Instrument featuring Model 1940 Micro Manipulator with Digital Display (1 micron resolution) sold separately.
Offering a new level of precision and accuracy, our Model 1940 Micro Manipulator provides 1 micron resolution linear glass scales with digital display readout, proving this instrument to be the most advanced manual manipulator available today. Our quick change tool holder allows you to attach any stereotaxic alignment tool and maintain an exact common vertical centerline position tool-to-tool. This valuable feature will assist in reducing surgical time and potential time consuming errors, as well as increasing hit rates and providing a repeatable platform for your research.
Model 1900 Standard Accessories
(supplied with Model 1900)
Model 1900-C Stereotaxic Frame Assembly
Model 1900-B Head Holder Assembly with Sagittal Plate
Model 1923-B Mouse Gas Anesthesia Head Holder
Model 1922 Non-Rupture 60° Tip Mouse Ear Bars
Model 1900-51 Centering Height Gage
Features
1 micron resolution digital readout.
Common centerline position for all stereotaxic tools
Manipulate head position in 3 dimensional space.
Alignment Indicator provides dimensional output .010 mm resolution to insure head placement.
Recommended Accessories
Model 1905 Alignment Indicator
Model 1910 Dial Test Indicator
Model 1911 Stereotaxic Drilling Unit
Model 1915 Centering Scope 40X
Model 1940 Micro Manipulator with Digital Display 1 micron resolution, 3-axis
*** Additional tool attachments may be necessary based on individual surgical requirements.